Services That We Provide
We are proud to be serving Fresno & Cloviswith our repair facility. Our commitment to quality service has earned us consistent high marks in customer satisfaction.
Honesty Automotive is dedicated to keeping you safe on the road. Our experienced service will keep your vehicle running in top condition.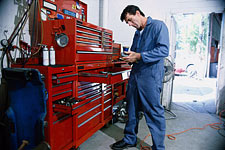 We use the latest automotive diagnostic technology to provide you with high quality service, and quick turnaround. In fact, our parts resources carries a large inventory of in stock parts. This gets you on the road quickly and safely.
We feature a comfortable lounge. Enjoy our TV, complimentary coffee room. We also offer free shuttle service to anywhere within a reasonable distance. Consult one our friendly representatives for special arrangements. Your satisfaction is our highest priority!
You won't find a better level of service anywhere in the Fresno, Clovis area!
We recommended preventative maintenance services that include:
Oil change, lube and filter
Tire rotation
Brake and transmission fluid replacement
Clean fuel injectors
Air filter inspection and replacement
Transmission inspection
Radiator inspection and service
Fan and belt inspection and replacement
Vehicle Inspection
Tune-Up
Air Conditioning service
Battery, Charging System and Starter Test
Factory scheduled maintenance
Other services offered:
Brake Services
Engine services and repair
Transmission Service & Repair
Electrical systems service and repair
Steering & Suspension Services
Heating & Cooling Services
Alternators, starters, and ignition Service
Cooling system repair (A/C)
Water pumps
Fuel pumps & lines repair
Smog inspections and repairs
*Call for additional information
We are experienced at using computerized engine diagnostics to quickly and accurately identify and treat whatever symptoms your auto is experiencing.
Towing Service Available
State authorized SMOG testing & repair services available